Animal Art Fair & Stody Lodge Estate
Article posted on 28 April 2015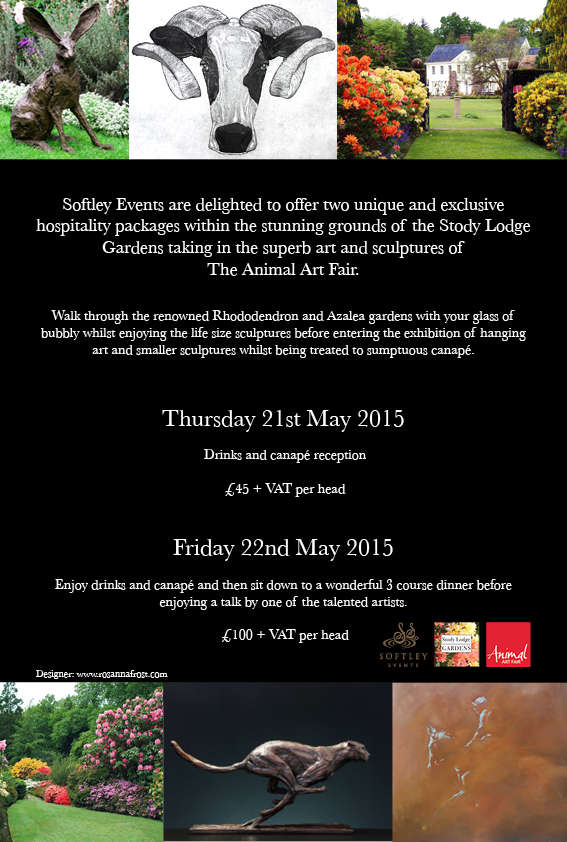 Softley Events are delighted to have teamed up with Stody Lodge Estate and The Animal Art Fair to offer a unique and exclusive opportunity whether for clients or family and friends.
Future 50 company, Softley Events Ltd, is delighted to announce that it has been appointed by Stody Lodge Gardens to work with them to manage the hospitality during the Animal Art Fair, which is coming to Norfolk this Spring.
With the most exceptional rhododendron and azalea gardens in North Norfolk, Stody Lodge Gardens, located just outside Holt, is widely regarded as East Anglia's most dramatic spring garden, bursting into a riot of colour every May and welcoming horticulturists from throughout the UK to visit the magnificent venue.
This May promises something even more spectacular, as the Animal Art Fair has chosen to hold its spring exhibition within the Stody Lodge Gardens. Founded in 2010 to represent and showcase the best in contemporary animal art the Animal Art Fair (TAAF) has grown into a leading dealer in their field and holds numerous exhibitions across the UK. The stunning collection of animal paintings and sculptures visiting Stody Lodge Gardens includes works from the UK's leading animal artists in a wide variety of mediums and styles, including bronzes, oils, etchings , sculptures and watercolours. Visitors will be able to follow winding pathways under canopies of rhododendron blooms to discover beautiful life-size pieces within the different areas of the impressive 14-acre garden.
As part of the exhibition, Norfolk's premier event management company, Softley Events, will be hosting two distinctive events designed to offer a unique networking and corporate entertainment opportunity for businesses in the region. On Thursday 21st May Softley Events will host a Walk Through The Gardens featuring a drinks and a canapé reception and on Friday 22nd May, the event management company will then host an exclusive Art Dinner, when guests will enjoy a champagne reception, three course dinner and a talk by one of the artists. Both events will also offer guests an exclusive opportunity to enjoy the impressive setting of the gardens, wandering through a sculpture trail covering 10 acres of expansive lawns, magnificent yew hedges and woodland pathway, as well as a private view of the artworks on display in the exhibition marquee.
Sarah Softley, Director of Softley Events, explains:
"Stody Lodge Gardens really is an enchanting setting, which comes alive in Spring when the rhododendrons and azaleas are in bloom. This year promises to be even more magical with the arrival of the Animal Art Fair, so we have teamed up with the owners to put together two truly unique corporate entertainment opportunities.
I know from experience that companies throughout Norfolk are looking for new and exciting corporate entertainment, so when Stody Lodge Gardens approached me about the Animal Art Fair, I knew that this collaboration would be a wonderful opportunity for businesses throughout the region to entertain their staff, suppliers, client and contacts in style, offering something that has never been done before."
The Animal Art Fair Sculpture Gardens will be exhibiting at Stody Lodge Gardens every Sunday throughout May, as well as Bank Holiday Monday, 25th May. In addition, from 17th to 25th May 2015 Stody Lodge Gardens will be showcasing stunning oils, watercolours, drawings and etchings from artists including Guy Allen, Ashley Boone, Lucy Boydell, Kate Denton, Bruce Little, Ian Edwards, Matt Falle, Tom Hiscocks, Michelle McCullagh, Maryann Rogers, Heidi Slaughter, Jamie Wild and Chris Wright in a specially designed exhibition marquee.
For information about the Animal Art Fair, Stody Lodge Gardens or the exclusive corporate events packages on 21st and 22nd May, please contact Sarah Softley at Softley Events on 01603 757658 or e-mail sarah@softleyevents.co.uk.